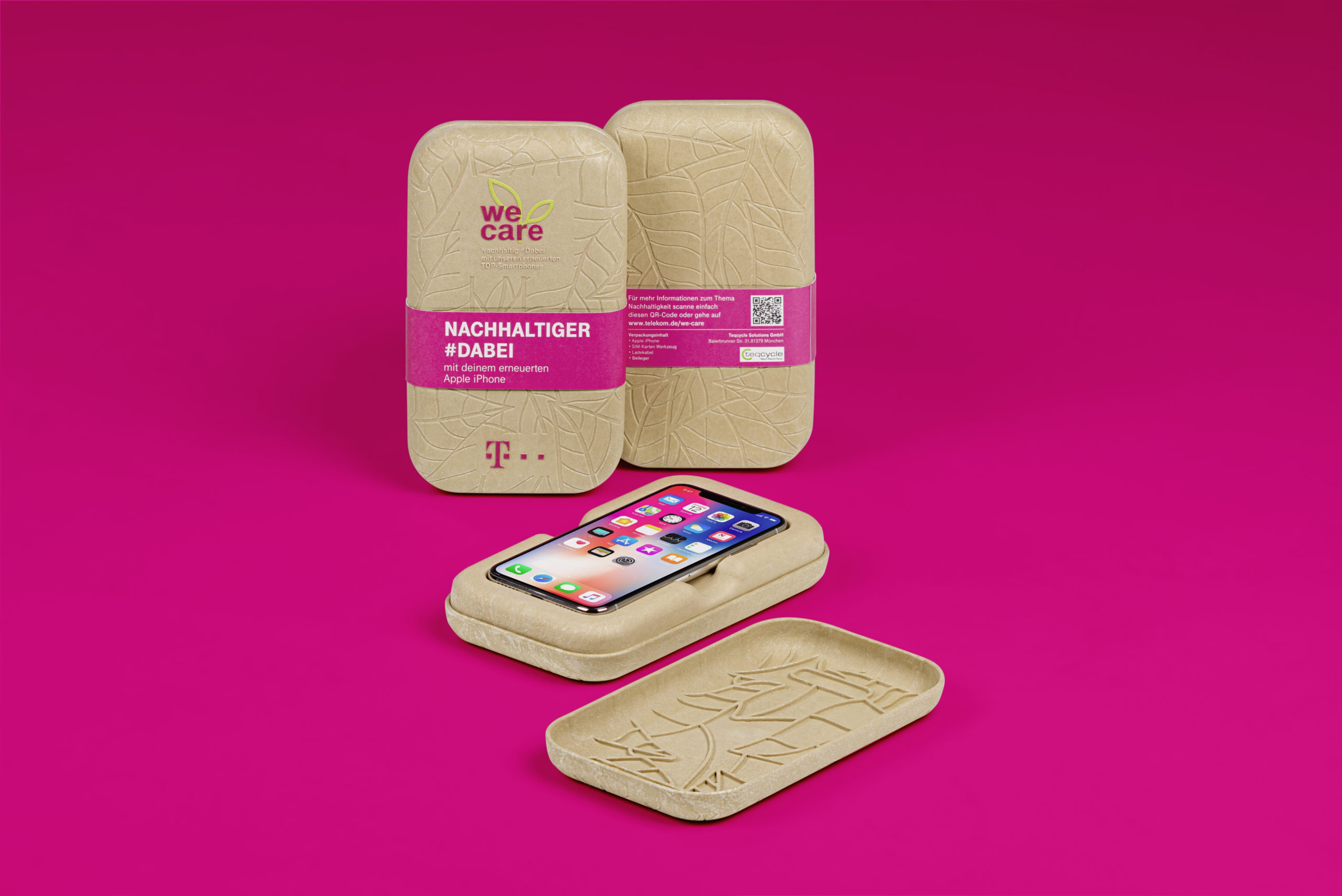 T-Mobile box packaging design
This PaperFoam® mobile box packaging design is all about keeping the product safe while communicating the T-Mobile brand image. But it also offers convenience for its customers and conveys information about its content. Since smartphones are expensive and delicate, they need sturdy packaging to keep them safe during shipping and storage. Like T-Mobile, more companies are using eco-friendly materials and packaging designs that are recyclable, reusable, and biodegradable. This positively impacts the environment and their brand while also making their customers happy.
Noticeable features of the T-Mobile box packaging design
The mobile box packaging design has several noticeable elements:
We based the color scheme on the T-Mobile company colors

Its lid fits downward onto the bottom with inlay and locks in a closed position

Frustration-free unboxing experience

The smartphone fits into the inlay that holds it in place and protects it from shifting

PaperFoam® is recyclable, home compostable, and biodegradable.
Sustainable mobile packaging for a positive customer experience
Easy unboxing: some features make it easier for customers to open the package. These features include a sliding outer sleeve, an easy lift-top that makes it easy to access the phone right away, and a tab that makes it easy to take the phone out of the tray. With this PaperFoam®-based box, your customers do not need to worry about struggling with knives or scissors to cut through hard plastic or heavy materials. Do you want to know how we create the perfect fit for your product? Find out more about PaperFoam® injection molding technology.
What kinds of boxes can we create with PaperFoam®?
The biodegradable and recyclable fiber-based pulp allows us to create basically anything. Our packaging components include (but are not limited to) trays, lids, bottoms, inlays, inner collars, phone molds, accessories dividers, and full-color sleeves. In addition, our mobile box packaging design reduces your packages' overall size, weight, and related carbon emissions. Do you want to know what environmentally friendly packaging solution we can offer for your products? Contact us to request a sample or quotation.