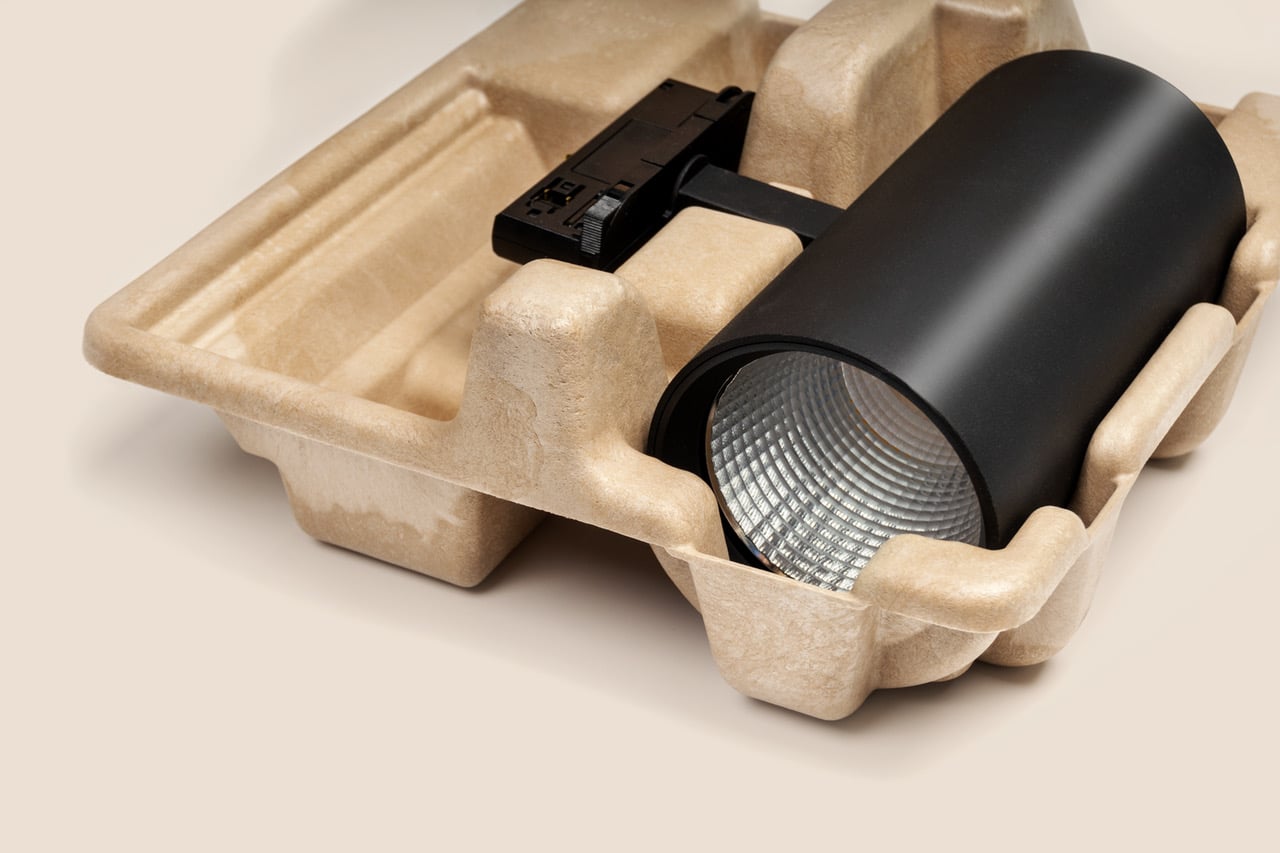 The apex of eco-friendly packaging
Envisage a world where your products are cradled in bespoke, sustainable excellence. Our collaboration enables Zumtobel to deliver exceptional lighting products with eco-friendly packaging. Together, we are reducing the carbon footprint of packaging for a brighter and greener future.
Welcome to the realm of PaperFoam®, the epitome of innovative, eco-conscious packaging designed to deliver both impeccable product protection and an elevated unboxing experience.
Dive into a universe where every layer of our packaging is a commitment to Earth and your brand. Our unique blend of industrial starch, natural fibers, and a specialized premix morphs through a precise baking process in custom molds, crafting a packaging that's not just a container but a statement. A tailored statement that mirrors your brand's commitment to the planet and your clientele.
The perks of PaperFoam® packaging
Sculpted precision
Enjoy a snug fit and safeguard your products with packaging meticulously crafted to mirror every contour, ensuring that what's inside arrives as impeccable as it was when it was encapsulated. We created the eco-friendly packaging design for Zumbotel in development with our partners at DE-PACK GmbH & Co. KG.
PaperFoam® is light, yet mighty
With PaperFoam® you can reduce your packaging weight by up to 40%. How? By ensuring a lighter, more cost-effective shipment, while maintaining robust, unwavering protection for your products.
Packaging tailored to your brand
Immerse your clients in a brand experience shaped just for you, with customized color, design, and the luxurious detail brought by fine injection molding processes. Engage and enchant with intricate embossing and debossing that whispers the quality and precision your brand embodies.
Effortless utility
Our stackable and nestable designs make storage a seamless aspect of your business operations, minimizing space usage while ensuring the utmost protection.
Harmony of style and sustainability
Embark on a journey with PaperFoam®, that doesn't just communicate care for your products, but also broadcasts a resonant message of environmental stewardship. We link premium quality with tangible sustainability. Your product is exceptional, and it demands an exceptional vessel. A vessel that speaks, that echoes your brand's values and commitment to excellence and sustainability. In the hands of your customers, let each unboxing be a revelation, a tangible touchpoint of your brand's dedication to quality and conscious living.
Elevate your brand with PaperFoam®
Elevate your brand, enchant your customers, and stand tall as a vanguard of sustainability. Act now, embrace a future where every package unboxed is a testament to quality and care.