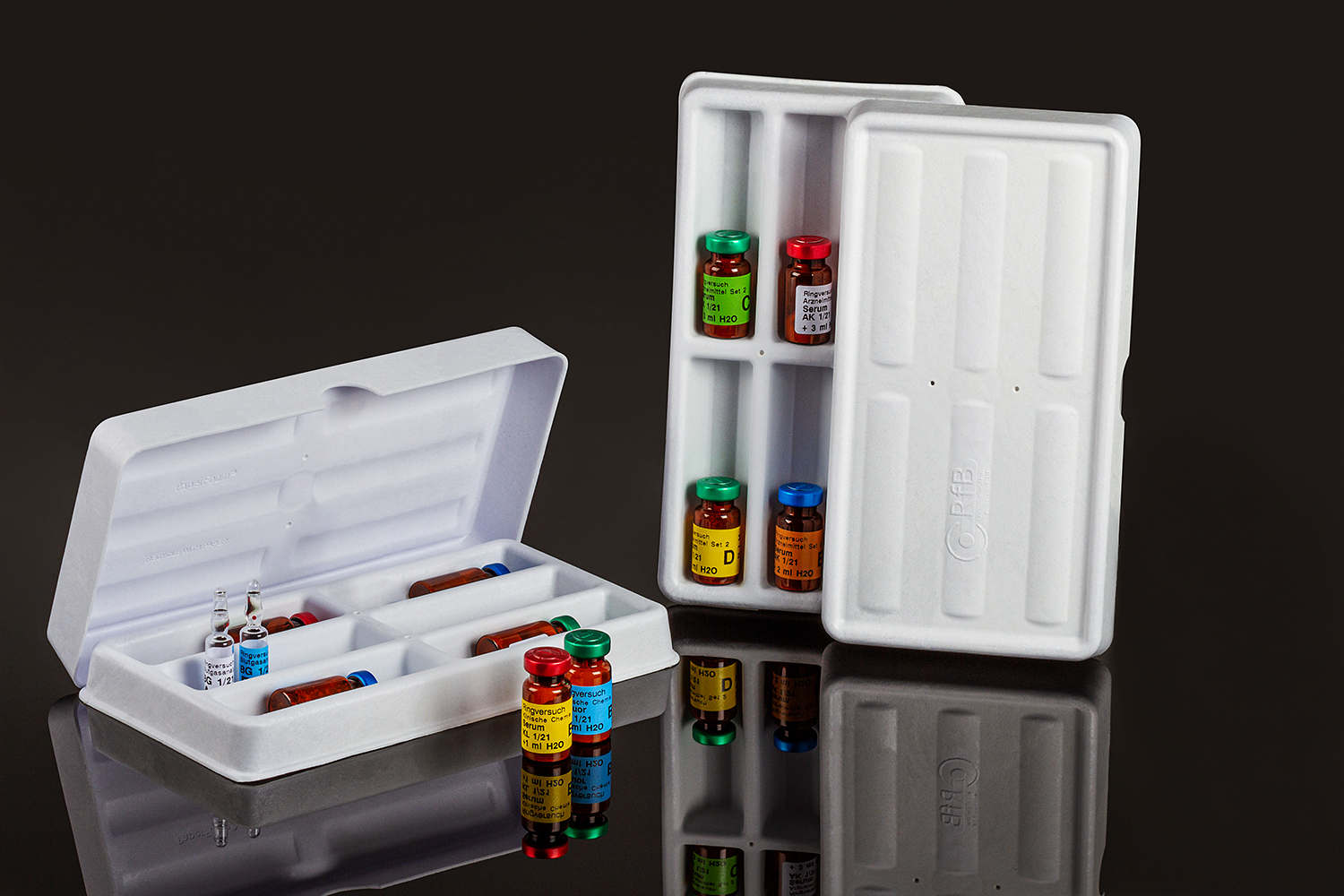 PaperFoam® proudly presents a sustainable packaging solution designed for RfB (Reference Institute for Bioanalytics), one of the leading German proficiency testing organizations. RfB daily requires dust-free, custom-molded medical packaging for shipping small products such as vials and other fragile components. So, what makes this clamshell packaging solution different from other packaging solutions?
100% biodegradable materials
Rigid and secure protection in custom mold
Dust-free and safe for medical supplies
Eco-friendly alternative to polystyrene (EPS)
Usually, this type of packaging consists of a variety of plastics, such as polystyrene. Suppose you want to protect small, fragile vials from colliding against other items during shipping and care about the environment, then we have the solution for you. PaperFoam® offers a completely biobased, lightweight packaging solution with good insulation properties. All ingredients are biodegradable, renewable, and recyclable. The perfect eco-friendly alternative to polystyrene (EPS/Styrofoam) packaging.
Dust-free packaging and secure shipping
Are you shipping fragile medical products that you want to ensure are not only protected but secure? PaperFoam® custom molded clamshell packaging may be the solution for you. The packaging container is split into two halves. The top and bottom tightly clamp together, like a clamshell. PaperFoam® creates custom molded clamshell packaging to fit fragile and small items for rigid and secure protection during transportation. While biobased clamshell packaging stays dust-free during shipping and handling, they also effortlessly open and easily reseal. This makes PaperFoam® clamshell packaging excellent for storing items for future use.
Recognizable design
PaperFoam® is 100% customizable. Not just when it comes to sizes and shapes, but also in its aesthetics. Do you want your products to be recognizable or increase their safe handling? You can add labels, instructions, and logos to the design for your biobased packaging. Strengthen your product protection and improve recognizability.