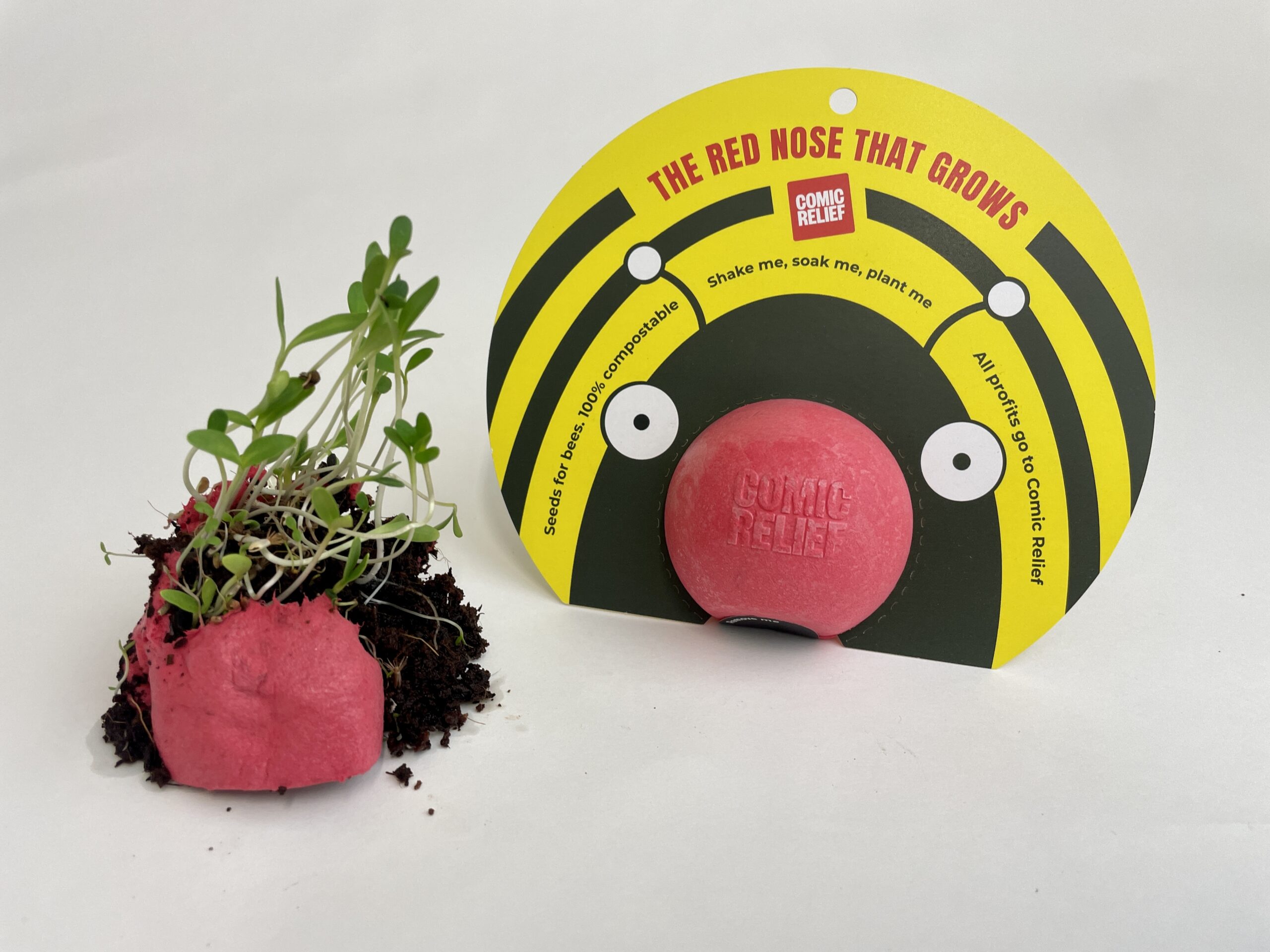 Compostable Red Nose
In today's world, it is crucial to make decisions for your brand that positively impact the environment. And what better way to do that than with sustainable eco-packaging? PaperFoam® packaging is not only eco-friendly but also leaves zero waste. Homebase takes people and sustainability seriously, so they partnered with PaperFoam® to create a sustainable shell for their Wildflower Seedbom™. This year's Red Nose That Grows exterior is made from 100% natural fibers and compostable starch-based PaperFoam®, filled with wildflower seeds. After planting it, the shell breaks down, biodegrades, and the flower seeds are left to blossom. So, except for the beautiful wildflowers, the Red Nose will leave no trace behind.
Plantable packaging material
At PaperFoam®, we make plantable packaging using compostable materials that you can fill with seeds and peat-free compost. By choosing compostable packaging, you show your commitment to the environment while promoting corporate sustainability at the same time. The best part about this type of packaging? Since it biodegrades, customers can plant the packaging with its contents, so the receiver can enjoy the wildflowers, fruits, or veggies carefree. What a refreshing way to make a green choice while adding value to your products. By opting for plantable eco-packaging, you do your part for the environment and create a unique and memorable experience for your customers.
Kindness and compassion for nature and humanity
The plantable Red Nose Wildflower Seedbom™ comes in two variations; one attracts butterflies and the other bees. These pollinators are essential to the ecosystem and survival of natural beauty, such as flowers, plants, and trees. So along with its kindness to the environment, the Red Nose also helps improve people's lives worldwide. How? Red Nose Day is coming up, the fundraising day for Comic Relief. Homebase donates all profits from selling the Red Nose That Grows to support Comic Relief, a UK-based charity that works tirelessly to make a difference in communities both at home and abroad.
How do we make packaging eco-friendly?
At PaperFoam®, we work hard to help our customers make a positive impact on the planet through packaging choices. To reduce waste, the materials we use are recyclable and biodegradable. These materials are food-grade certified and safe for people and the planet. Additionally, we reduce excess material by making the custom packaging tough but small through our injection molding process. Finally, we minimize carbon emissions from production and transportation by producing the packaging locally. So, if you want to show your eco-commitment and positively impact the planet, choose sustainable eco-packaging for your brand.