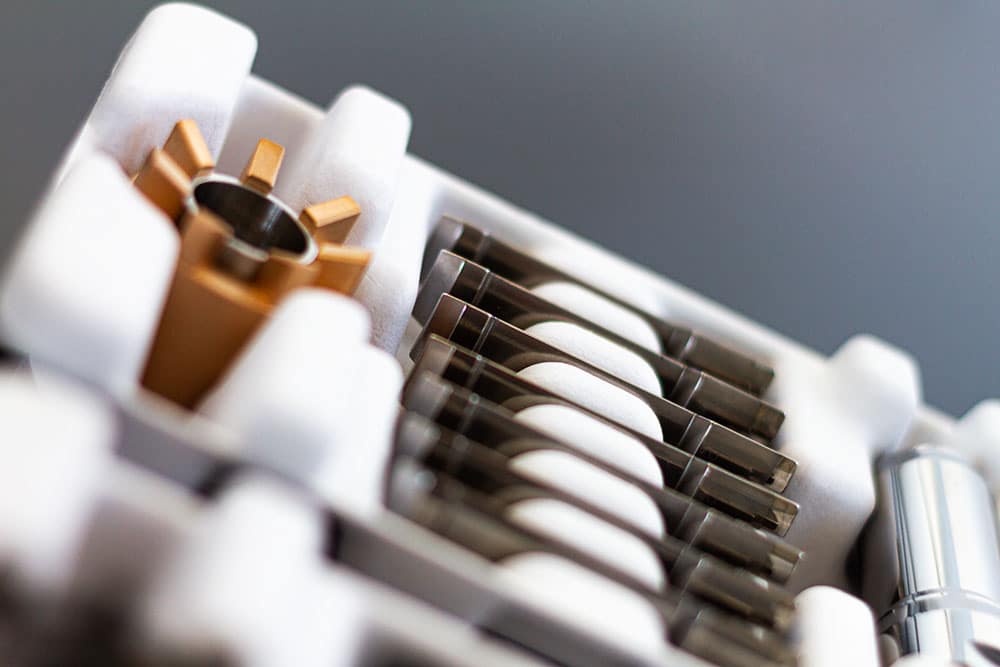 Keep your equipment safe during transport and storage
We proudly present this sustainable shipping box design for OTT-JAKOB, one of the world's leading manufacturers of tool clamping systems for machine tools. When it comes to machine tools, the right protective packaging can be the difference between a successful project and a costly disaster. Whether it's a delicate clamping system or a heavy-duty tool, the right packaging can keep your equipment safe during transport and storage. And when it comes to customizable protective packaging, the options are endless with PaperFoam.
Sustainable boxes for shipping
Imagine a world where your protective shipping box is tailored specifically to your needs and meets your sustainability standards. That's the beauty of PaperFoam® customizable packaging – it's made just for you and recyclable. With the ability to adjust the size, shape, and color of your packaging, you can ensure that your equipment is protected in the most efficient way possible. But why stop at just protective packaging for your clamping systems? Customizable packaging can also be used to protect a wide range of machine tools, from lathes and mills to drill presses and saws. And the best part? You can design your packaging to perfectly fit the unique shape and size of your equipment, so you can say goodbye to wasted space and hello to maximum protection.
Branded shipping boxes
And let's not forget about branding opportunities. With customizable packaging, you can add your company's logo or other branding elements to create a professional and cohesive look. This not only helps to protect your equipment, but also helps to promote your business. PaperFoam® can add any color to the mix of renewable four ingredients that forms a thick paste. Discover other styling and color options in our extensive portfolio.
Secure shipping and storage with sustainable box and inserts
But perhaps the biggest benefit of customizable protective packaging is the peace of mind it brings. When you know your equipment is well-protected, you can focus on other important aspects of your business without worrying about potential damage. So, think like OTT-JAKOB and don't settle for generic, one-size-fits-all protective packaging. Upgrade to customizable packaging and give your machine tools the protection they deserve. Your equipment, and your peace of mind, will thank you.
Want to know more? Read all about sustainable packaging by PaperFoam®.