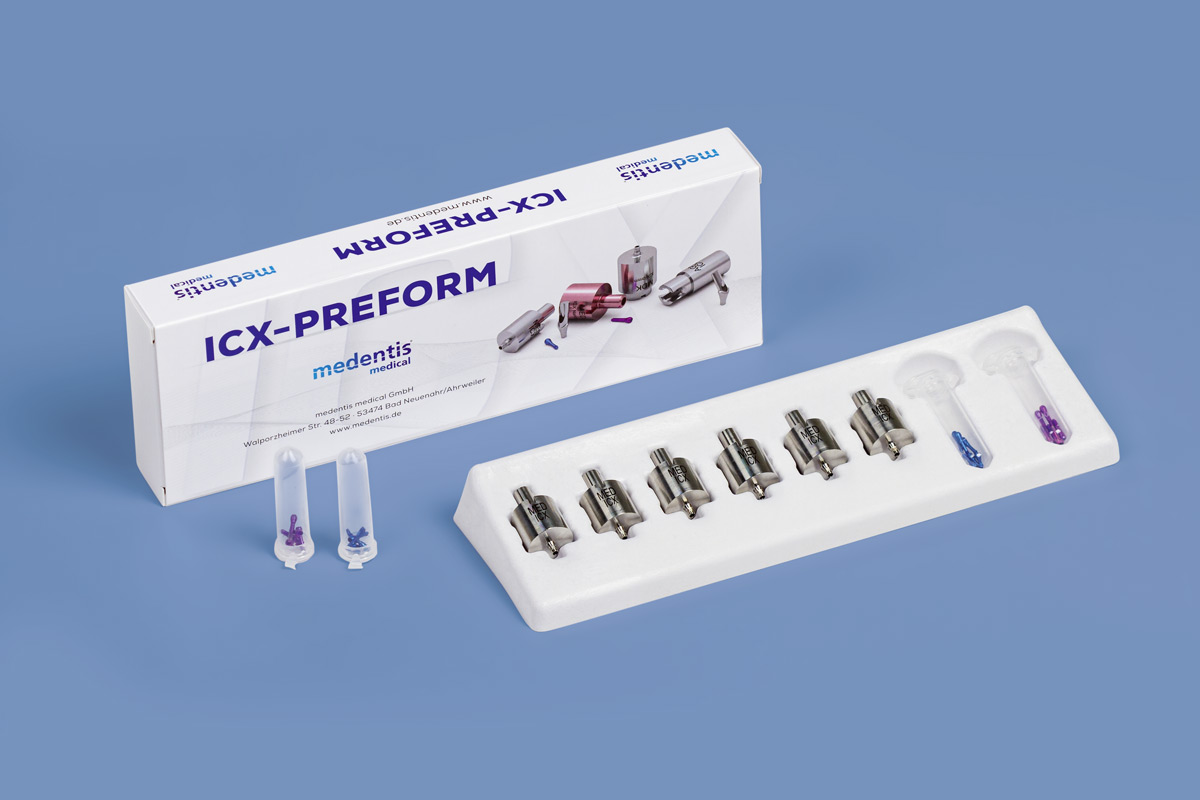 Medentis Medical
PaperFoam® introduces the perfect protective packaging for medical supplies. We created this specific biobased packaging for Medentis Medical, the well-known ICX dental implant system manufacturer. The lightweight tray offers protection to the Preform® abutments during transportation and storage. Abutments can repeatedly be removed from and replaced in the customized tray. Furthermore, the outer packaging box carries the company logo and details of its contents through personalized printing. Medentis Medical choose PaperFoam® for three reasons:
Reusable packaging through easy unboxing and replacing of contents
Personalized lightweight packaging with maximum protection
Local and low-carbon manufacturing
Recyclable and reusable packaging
Looking closely at the images, you notice how the abutments fit the tray exactly. PaperFoam® customizes the box inserts to create a perfect fit that holds the product in place during shipping and storage. No sliding or shifting means no damage. Each PaperFoam® design is customized and developed according to the product's packaging needs and the company's preferred presentation. Customers can reuse this packaging design for Medentis Medical repeatedly for storage. Since the entire box and tray are biobased, they can be recycled with paper or turned into compost when the packaging is no longer needed.
Maximum protection in lightweight packaging
Why would you choose PaperFoam® biobased packaging over other types? Choosing eco-friendly packaging goes a long way in minimizing waste that ends up in our oceans and landfills. If going green is what you aim for, then this is motivation enough. But there are other advantages of choosing PaperFoam® for your product. The lightweight custom packaging forms a cushion around your product, offering it even better protection than regular packaging. Add up to 40% weight reduction of PaperFoam® packaging to that, and you will also save on your shipping cost.
Local production and low-carbon manufacturing
PaperFoam® works hard to reduce carbon emissions daily. We believe sustainable production requires a local manufacturing process, free from pollution and with minimal environmental impact and footprint. With headquarters in Europe, Asia, and United States, PaperFoam® aims for a low-carbon manufacturing process and reduces carbon emissions from transportation. Our energy-efficient and low-carbon manufacturing allow us to create a personalized and biodegradable design for your products. And when your customers no longer need the packaging, they can recycle the entire structure or turn it into compost.