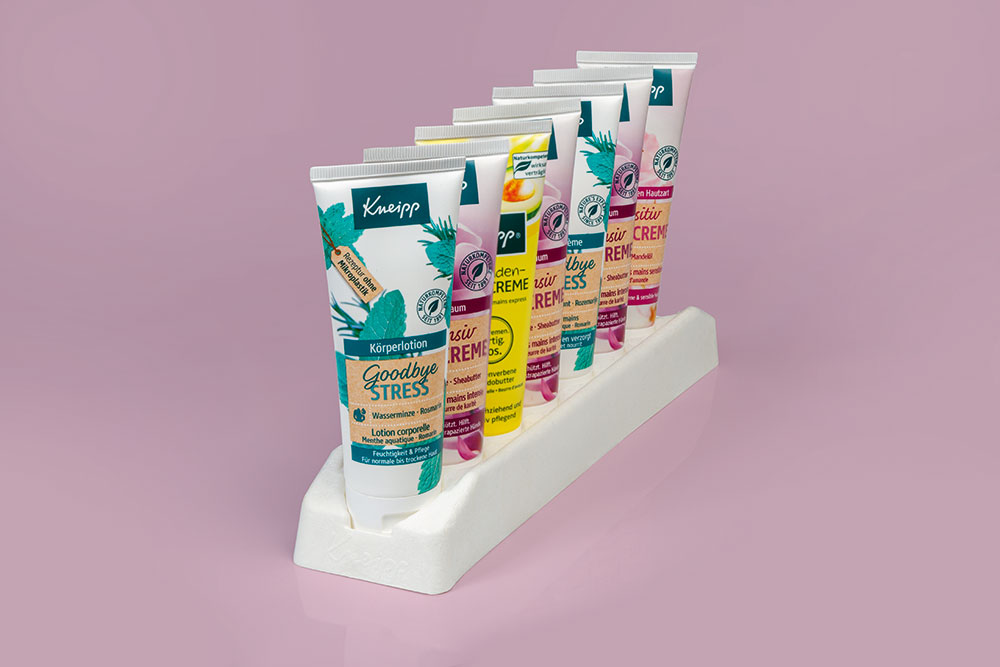 Kneipp
PaperFoam® has developed and produced a new product display stand for the Kneipp brand. This specific stand is suitable for presentation through the upright placement of cosmetic body lotion tubes. The Kneipp brand is famous for its organic products and its commitment to strict sustainability guidelines. Among others, biobased packaging is part of the brand's quest for eco-friendly products and commitment to sustainability. Packaging begins where it touches the product, from body lotions to essential oils, and it continues to the way the Kneipp brand showcases its products.
Easy-to-use design
The lightweight, natural design in cream-white color holds the tubes upright without obscuring them or distracting customers from the visual design of the container. In addition, the reusable display stand protects the container from tipping over, and customers can effortlessly remove tubes from the frame or place them back in it.
Eco-friendly biodegradable packaging and more
Suppose you are committed to preserving natural resources, and the preservation and balance of nature and sustainability are essential to you and your customers. In that case, this is probably not your first step toward sustainable packaging. You are looking for more than just a cover for your products; your mission is to become environmentally friendly in every aspect. Every detail requires attention. PaperFoam® creates personalized and biodegradable trays, display stands, and packaging in a wide array of colors, textures, and details. You can make your eco-friendly packaging concept attract as much or as little attention as your product needs.
Sustainable logistics
Eco-friendly packaging can give you an edge over your competition. Not just because it helps you with more sustainable products and packaging but also because it helps reduce weight and saves space during shipping. We form PaperFoam® biodegradable packaging into any shape by using injection molding. Since all packaging is customized, you can choose to shape trays so they are stackable. Do you want to add your logo to the biodegradable packaging? No problem! Company and product logos in texture Furthermore, PaperFoam® boxes, trays, and cases reduce the packaging weight by up to 40% compared to regular product covers, which means a lower shipping load and increased sustainability in shipping.