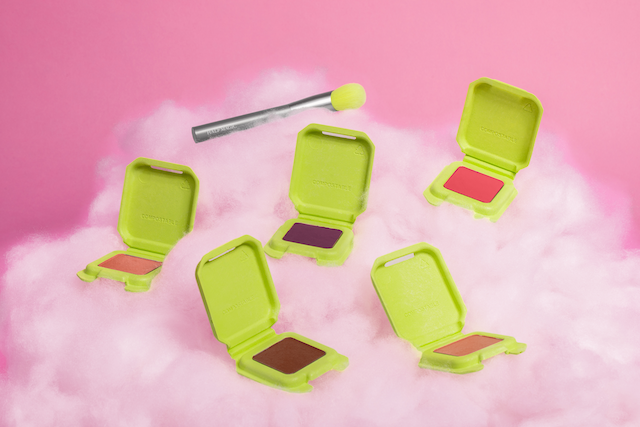 Effortless recycling
Today, makeup containers hardly ever get recycled because they are too small for curbside recycling machinery. Even larger makeup packaging often isn't recycled because it seems too laborious or requires proper cleaning first. Half Magic strives to reduce beauty waste and support circularity in the industry. This is where PaperFoam® sustainable packaging comes in. Excited by this opportunity, we created PaperFoam® makeup compacts and other packaging solutions for Half Magic to support them in making recycling effortless.
100% recyclable makeup packaging for cruelty-free products
At Half Magic, they understand the importance of protecting and preserving our planet for future generations. That is why they are committed to providing cruelty-free makeup products in sustainable and recyclable packaging. The PaperFoam® makeup packaging is made from environmentally friendly materials—industrial potato starch and molded cellulose—that are safe for you and your skin. Half Magic chose PaperFoam® because they believe in using materials that are compostable, recyclable and can be repurposed, so you can feel good about using their makeup products and supporting a beautiful brand that cares about the environment.
Reduce waste with biobased packaging
Like Half Magic, we believe in the less, the better when it comes to waste. Reducing waste is critical if we want to create a more sustainable and environmentally friendly world. Through small, customized, and lightweight packaging PaperFoam® helps reduce the amount of waste after the packaging material is no longer used or cannot be reused. After use, the sturdy, biobased PaperFoam® makeup compact is both curbside recyclable with paper goods and home compostable.
Fun, functional, and thoughtful
Who said sustainable packaging can't be fun? This earth-friendly design for Half Magic shows that functional and thoughtful packaging can be fun too. The compacts are easy to open, making them accessible to everyone. In this fashion, beauty and self-expression are for anyone and all. And beauty no longer has to come at the cost of the environment. By adding color pigments to the mixture, we can create packaging in any color to match and strengthen your brand identity.
Seeing this, PaperFoam® believes that this beautiful, ultra-lightweight, and eco-minded packaging design helps to raise awareness of new ways to improve corporate sustainability in the beauty industry.
How To Recycle Half Magic's Compact