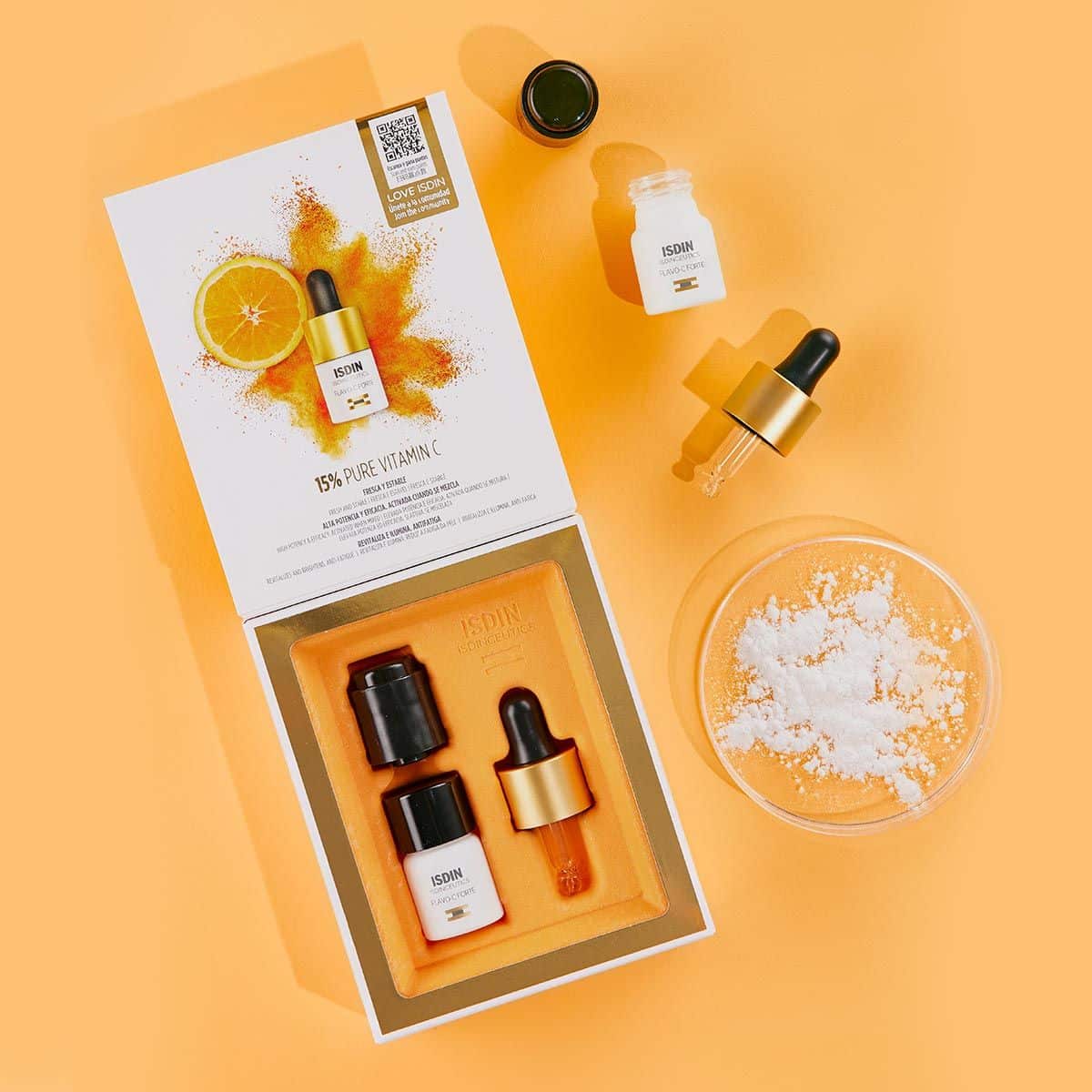 We are thrilled to introduce a groundbreaking solution that marries aesthetics with environmental responsibility. Our latest innovation features packaging that is not only 100% compostable but also fully recyclable, crafted from paper materials. This state-of-the-art packaging stands out with its custom vibrant hue, ensuring an eye-catching presentation without relying on a single piece of plastic.
Testament to the harmony between nature and science
Eco-friendly packaging is an impeccable match for ISDIN Flavo-C Forte, a product that embodies rejuvenation and vitality. This anti-aging facial serum, infused with a potent blend of antioxidants from vitamin C and Gingko Biloba leaf extract, champions the fight against photoaging. It is a testament to the harmony between nature and science, offering a path to restored skin elasticity, enhanced moisture, and a visibly youthful radiance. By encasing such a nature-inspired, revitalizing formula in sustainable packaging, we not only extend the ethos of care and renewal to the product experience but also align the brand's environmental philosophy with its skincare promise. The compostable and recyclable nature of the packaging echoes the serum's commitment to natural beauty, completing a circle of eco-consciousness that resonates with the discerning, environmentally aware consumer.
Eco-conscious shipping
For ISDIN, we have ingeniously tailored an eco-conscious shipping option that reflects their commitment to both human and planetary well-being. The shipping containers and inserts have been meticulously designed to meet the specific packaging demands of ISDIN. Their priority is twofold: ensuring product integrity upon delivery and making a memorable initial impact. We understand the significance of packaging aesthetics in shaping the first impressions of any product. This sustainable packaging concept is built upon three foundational pillars:
Scratch-resistant and biodegradable materials
Lightweight design optimized for e-commerce shipping
Rich, intense coloration for a premium appearance
Full-color and eco-friendly unboxing experience
Our full-color, customizable packaging is specifically engineered for each product, featuring a stunning bright orange shade with a satin finish that beautifully accentuates the white and gold containers it houses. We offer an expansive color palette since all our packaging solutions are bespoke, allowing for a unique and delightful unboxing experience.
Scratch-proof
We've ensured that our sustainable e-commerce packaging is also scratch-proof, offering superior protection for a diverse range of products, from delicate glassware for medical or cosmetic use to vulnerable electronic items and food products that require extra care.
Additionally, PaperFoam® packaging is remarkably lightweight, potentially cutting shipping costs by as much as 40% compared to standard packaging. After use, customers can easily convert this material into compost, fully breaking down naturally within weeks, thus completing a cycle of sustainability.